Jon Bennett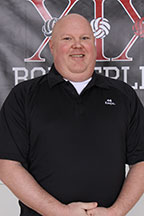 Jon Bennett returns for his fourth season in 2012-2013 as the head coach of the Mountís womenís volleyball program. He has over 20 years of coaching experience in both menís and womenís volleyball programs at many levels.
Bennett, who was hired in February 2009, was the Lionsí womenís assistant volleyball coach (2001-2004). He also coached the Mount's men's volleyball team from its inception in 2010, until midway through the 2012 season. Bennett returned to the Mount from Miami University Middletown where he served as head coach of the womenís team in 2008. He led the Thunder Hawks to the Ohio Regional Campus Championship and an 11-6 record, as they won their last seven matches of the season. Bennett was also the assistant womenís coach at Miami University in Oxford, Ohio (2005-2007),
Bennett led the Mount to a first place regular season tie in the HCAC standings in 2012, turning in a 8-1 conference mark. The Lions' finish qualified them as the #1 seed and host of the HCAC Tournament, where they won the 2012 HCAC Tournament and earning the automatic bid to the NCAA tournament.
While at the Mount, Bennett has coached the Lions to a 72-55 overall record and a mark of 32-5 in the HCAC.
The Lionsí head coach has also been employed as a substitute teacher by the Hamilton City School District. He graduated in 2001 from Miami University with a bachelorís degree in health education and a minor in coaching. The Forest Park High School alum, who is a USA Volleyball IMPACT Instructor, is CAP Level I and II accredited and has achieved ASEP Level 1 and ASEP Master Level accreditations. Coach Bennett is also a member of the American Volleyball Coachesí Association.
He resides in Forest Park, Ohio, with his wife, Kymn, and daughter, Alexis, who will be attending the Mount for the 2012-2013 school year, majoring in Neuroscience. Bennett's oldest daughter, Andrea, and husband Nick, have a son, Oliver.