17 Red Win Gold at Phillips!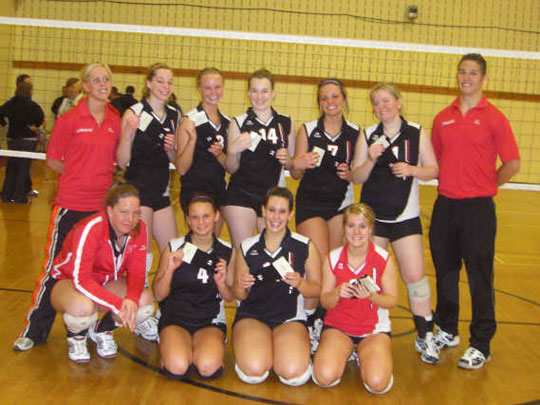 The Borderline 17 Red Firecrackers took first place gold at Phillips Hall on April 13. After two second place finishes at Sidney early in the season and at Wittenberg the week before, the Firecrackers were determined to finish on top. 17 Red opened pool play with two wins in the minimum two games each in the morning. The final match of pool play pitted the Red against Lineshot White. The Firecrackers had defeated the Lineshot team in pool play the week before but were defeated in the finals in the rematch. The evenly matched teams traded wins in the first two games to set the tone for the deciding third game. The seesaw battle produced excellent play on both sides but Lineshot prevailed 19-17.
Tournament play saw the Red face a very tough Matchpoint team in the first match. Matchpoint moved out to a quick lead but the Firecrackers battled back to close the gap before falling. The second game was again close but the Borderline Red prevailed forcing a third game which the Firecrackers won to move to the semifinals. The semifinals saw the 17 Red team expend a lot of energy to win two closely contested games setting up a final match against Lineshot Black. The Black were well rested having ousted Lineshot White in two quick games earlier. The first game was won by Borderline after a back and forth battle. The second game was more of the same. The Firecrackers were sitting on a 24-23 lead needing one point for the match and the tournament win with Lineshot serving. A sure net serve somehow rolled over the top of the net and dropped to the floor to tie the score. Lineshot won 26-24 to force another three game match. The Borderline team quickly sealed the tournament win as they won 15-9 to close the day on top.