Savanah Bertsch Signed with St. Joseph's College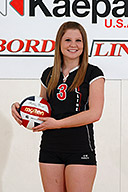 Savanah Bertsch signed with St. Joseph's College on April 11, 2007, a division II school, located in Rensselear, Indiana. She will now wear Purple, Scarlet, and Black, and the number 10. Savanah will major in Education.
Savanah has played for Borderline for 7 years, and has been fortunate to have had some of the best coaches (Carolyn Condit, Al Powell, Sam Shweisky, Anna Nies), including her high school coach, Bill Zehler.
Savanah said, "It is difficult to say goodbye to Borderline Volleyball, it has been major part of my life, to begin a new chapter but Borderline has not only prepared me to play volleyball, at the college level, but to meet life's challenges head on."
Danny and I (Brenda) would like to extend a Thank You to Borderline (Bill and Diana Zehler), along with all the coaches, who have been apart of molding Savanah into a young, woman athlete.