17 White Opens the Season With a Fast Start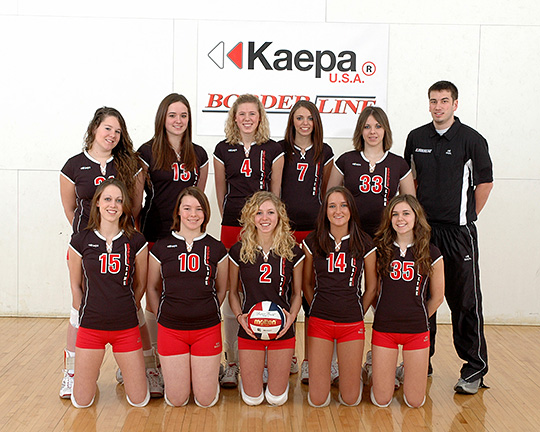 It was Sunday morning and with 2 inches of slush in the parking lot from an overnight storm and the 17 White players seemed neither happy nor awake. Coach Dave Case had his work cut out for him this morning. 17 White were about to play their first match of the day, and they didn't look quite up to the task. Western Buckeye 17s were their first opponents and 17 White made the 25-17 victory look easy. The second game found 17 White perhaps a bit overconfident and Western Buckeye more determined. The 18-25 loss for 17 White was definitely a wake up call. With the momentum in their court, Western Buckeye continued to outplay the struggling 17 White team for an 11-15 win over the Borderline Girls.
Coach Dave Case had only a few minutes to talk to the team before they had to ref the next match. Their next 2 matches were critical if 17 White wanted to play in the Gold Bracket. The first must win match would pit 17 White against Matchpoint. The Borderline girls put on a skills clinic for Matchpoint. Haley Hoffman, Liz Botts and Cecily Greenfield displayed killer blocks against Matchpoint's attempts and put down some serious kills of their own. Libero Amanda Kramb was assisted in the back row by Alexis Mosher, Rachel Thompson, and Katie Merkel. Good passes to Bridget Mears made it easier for her to put up great sets up for the hitters, Jackie O'Meara and Angela "Stu" Steuer, for some strong kills. Matchpoint never saw the 20s on their side of the scoreboard. 17 White wins in 2.
While 17 White officiated and then rested, the coach and the fans wondered which team would emerge after their lunch break. It didn't take long to answer that question when the Borderline girls took control of Darke County Volleyball Club from the opening serve. 17 White was hitting on all cylinders as they dismantled DCVC in 2 games.
17 White had landed a spot in the Gold Bracket and waited to play the second match on Court 1. North West Ohio Volleyball was their first bracket challenger. Borderline got off to a great start with a 25-20 win, but the tough North West team refused to go down without a hard fought battle. They turned the tables on the White team and evened the match with their own 20-25 win. It was now win the tiebreaker, or go home. White jumped out to a great start with the first 5 points of the match, but the big NW team chipped away at the lead until the score was tied at 14. The points went back and forth as both teams absolutely refused to let a ball hit the floor. At times there were 3 players at a time on the floor to make sure the ball got up for their teammates to play. Nerve wracking point after nerve wracking point, the tiebreaker continued until 17 White finally scored back to back points to finish the game at 19-17.
Next up was the M.E. Lyons team who had taken top honors in their pool. Back to back matches didn't seem to bother 17 White as they tamed the Lyons 25-16 and 25-22. The girls were showing some fatigue as the second game wore on. Did they have enough gas in their tanks to win a third consecutive match without a break?
They came out strong against NKJVC who had breezed through their pool with a 6-0 record, but 17 White handed them a hard fought 25-22 loss. Northern Kentucky would not be denied as they fought back with a 19-25 win of their own. For the third time in the tournament, 17 White was faced with a tiebreaker. Both teams swapped points, with neither getting more than a 2 point advantage over the other. NKJVC managed to get one of their 2 point advantages at the 13-15 mark to send 17 White home with second place Gold honors that was the result of good communications, determination and teamwork.
Congratulations 17 White and Coach Dave Case. Great Start!