Borderline Tournaments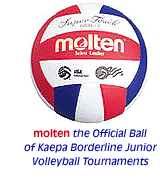 Borderline Juniors tournaments are held in Oxford and Middletown, Ohio. See borderlinevbc.org/sites/ for maps and directions. The entry fee for all Borderline tournaments is $200. The coaches' meeting for all Borderline tournaments is at 8:30 AM, with the first match beginning promptly at 9:00 AM.
To register your team for a Borderline Juniors tournament, contact Bill Zehler at (513) 726-6739 or by e-mail at zehler@borderlinevbc.org. Entry fee checks must be payable to Borderline Junior Volleyball. Out-of-region teams must also complete one Borderline Tournament Entry Form for each tournament. Send your check and, if out-of-region, your tournament entry form to:
Teams may enter Borderline Junior Volleyball tournaments by sending an entry fee ($200), 11-character team code, and team contact name and address by January 15.
All coaches, including coaches from other regions, participating in events in Ohio must have Concussion Certification.